It was not nice. But at the end of the night, Mississippi State won the Fort Myers Tipoff Championship Wednesday in Fort Myers, Fla.
Mississippi State Senior Dashawn Davis drilled six 3-pointers and his season-high 18 points led the Bulldogs to a 52-49 win over Utah. The Bulldogs went 6-0 up for the season while Utah fell 4-2.
Davis, a former Oregon State transfer, was 6 of 9 from 3 points while the rest of the team was just 3 of 29.
"We played together on defense and we didn't give up," said Davis, who also had four steals and two assists. "We kept going. It will be defense first and play stubborn balls. I was there for my team and I knew we needed that spark."
Not bad for a man who isn't 100 percent yet. Davis injured his ankle in the season opener and has been dealing with the issue ever since.
"He's playing with a pretty limp ankle," said the Mississippi State head coach Chris Jans. "He hasn't trained since the first game of the season. We've tried to get it as close to 100 percent as possible so this isn't a drawn out deal.
"We wanted him to be as close to this tournament as possible. He's not nearly as explosive as usual, but he's brave."
Tolu Smith had 16 points and tied for a career-high 16 boards, a career-high he set in defeating Marquette two days ago. DJ Jeffries added 10 points, all of which came in the first half.
Despite his tournament show and conquest as tournament MVP, Smith was quick to praise Davis in the post-game press conference.
"[Davis]is the MVP of this whole thing and I don't care what anyone says," Smith said. "I told him to keep shooting and I told him to shoot, shoot. He set the pace and that's what we needed.
"Coach Jans also put us in a pretty good mood when we needed him. As coach Jans said, we are still working on the offensive. I know I have to do better not flip the ball and I'm trying to see the right reads."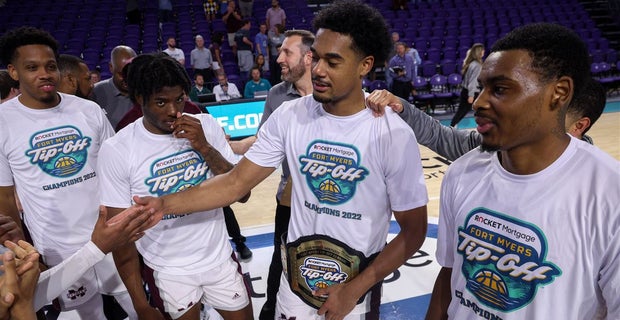 It was an ugly offensive performance from the Bulldogs, to say the least, shooting just 25% from field and 24% from behind the bow. However, the Bulldogs only had six turnovers and made 9 of 16 at the foul line. Mississippi State was out-rebounded 45-42, but the Bulldogs had 19 offensive boards.
"Their game plan was obvious," said Jans. "From the jump they wrapped him up and we struggled to find a way to get the ball in there. We had to do some 3s to win and someone had to step up. We got Rams (Davis) his shots and luckily she went in."
Ben Carlson and Mark Antony Everyone had 10 points to speed up the utes. But Utah wasn't much better offensively. The Utes shot 33% overall and 21% from behind the 3-point arc. The Utes also had 14 turnovers and were outscored 10-5 in off turnovers.
The Utes were trailing by six at halftime but were able to consistently shave the Bulldog lead. Utah capitalized on a 10-2 run to go 42-38 with just over seven minutes left on rule.
But then Davis warmed up for the Bulldogs. His 3-pointer tied the game at 45-45 with 3:59 left. Then moments later, Davis hit his sixth and final 3-pointer of the night to give the Bulldogs a 50-46 lead, with 2:27 remaining in the game. Utah had several chances to level the game in the final minutes, but the Bulldogs held on to capture the championship.
"Congratulations to the state of Mississippi on winning the championship and what a great event," said the Utah head coach CraigSmith. "Mississippi State is a great team and they made life incredibly difficult for us on offense. I thought both teams fought really hard. It was a physical and tough game.
"They can overwhelm you with their size and athleticism. Tolu Smith is a liability and (Dashawn) Davis is a game changer."
Mississippi State took an 8-2 lead thanks to some 3-pointers DJ Jeffries. But the Utes reacted quickly and equalized the game after a 10:10 Gavin Baxter Bucket with 10:42 left in half.
The Bulldogs put on another 10-2 run, capped by a 3-point game from Cameron Matthews, giving Mississippi State a 20-12 lead with a 6:48 at halftime. Utah clipped that deficit and was 25-21 down at halftime.
Mississippi State shot just 24% from the field in the first half, including a pathetic 3 of 19 that came from within 3-point territory. The Bulldogs were 4 of 6 at the foul line in the first half and only had three turnovers.
"I've seen a lot of programs where we've relied on defense and rebounds," added Jans. "There have been some ugly victories but we will take them. You may not always love it, but that's how you gotta win in college basketball sometimes.
"We were out of rhythm but a lot of our 3s were wide open. I mean we missed 50 shots in one game. But the best thing is that we won."
The state of Mississippi is now getting a few days off with the Thanksgiving holiday. The Bulldogs return Monday and play host to Omaha at the Humphrey Coliseum at 6:30 p.m.